Missouri, Hungary students happy to attend Triennium together
Youth July 19, 2019
Over time, partnership has expanded students' faith in both countries
by Paul Seebeck | Presbyterian News Service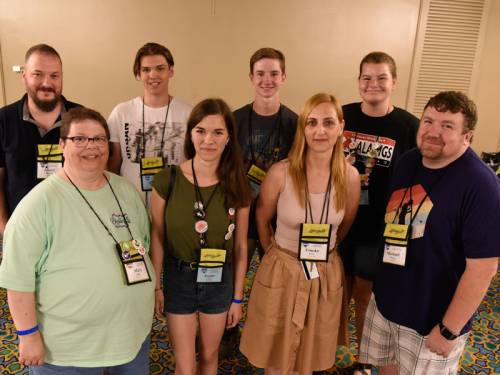 Students from Hungary and Missouri Union Presbytery are attending Triennium together. In the back row from left to right are József Csomós, Bence Cs., Charles G and Ellen P. In the front row are Mary Riley, Eszter K., Emőke Petró and Michael Moore. (Photo by Rich Copley)
WEST LAFAYETTE, Indiana — In 1980, the year churches in the Missouri Union Presbytery decided they wanted to help Christians in the Reformed Church in Hungary, the churches had no idea that it would blossom into a partnership ministry to benefit their youth programs.
After an initial presbytery delegation, which included the Rev. Cecil Culverhouse of Fulton, Missouri visited the country, churches began to ask what they could do to help Hungarian Christians, who were being oppressed. Culverhouse along with Annell and Bob Bailey of Jefferson City, Missouri played key roles the growth of the Hungary mission project for next 30 years.
Mary Riley, an assistant leader of the presbytery's Triennium delegation and Christian education director at Coates Street Presbyterian Church in Moberly, Mo., said those early visits were "a godsend" because "they were still under communist rule."
A godsend indeed.
Nearly 40 years after that first visit Missouri Union Presbytery brought 10 churches to the Presbyterian Youth Triennium. Usually three or four churches attend. Included in the delegation of 57 are 12 youth and six adults from Hungary who are part of Triennium's Global Partners program.
Two Hungarian church leaders, Emőke Petró and József Csomós, work as pastors at TIREK-ifi, a youth program in the Tiszáninneni District of the Reformed Church of Hungary.
Petró was 14 when communist rule ended in 1989 and Csomós was 10. Both remember how much help Missouri Union Presbytery was to the Reformed Church in those early years.
"First in dealing with oppression," Csomós said, "and then financially."
"Particularly with our theological seminaries," added Petró.
Missouri Presbyterians helped reopen the high school at the Reformed College in Sárospatak. And by 1991 the Reformed Theological Academy there was able to resume its educational work. Both schools had been closed for nearly 40 years.
For the next 30 years, the Missouri Union Presbytery and its churches helped open numerous schools and dormitories, kindergartens and vocational schools, thanks to support from a foundation that the presbytery created.
In the last decade, the presbytery's mission project of nearly 40 years in Hungary began to change into a mission partnership. The Hungarians no longer needed financial assistance, so church leaders in both countries began to ask, "What's next?"
Both realized they wanted an equitable partnership that would address similar issues facing them. Congregations were aging — and an increasing number of children were either going to church only because they had to or were dropping out completely.
"It's not just an American problem," said Csomós.
In 2016, the partners began to explore sending delegations of youth to each other's countries. A year later, nine youth and five adults from Missouri traveled to Hungary. After a two-week stay, they invited the Hungarians to send a similar delegation to Missouri. That delegation is attending this year's Presbyterian Youth Triennium.
"We wanted our youth to understand that Americans are our sisters and brothers who share our faith," said Petró, "and that they can find faith among their peers all over the world."
The leader of this year's Triennium delegation, Michael Moore, has a similar desire for the youth in Missouri, many of whom are from small, rural communities.
"We wanted to give them opportunities to expand the vision of their faith," Moore said.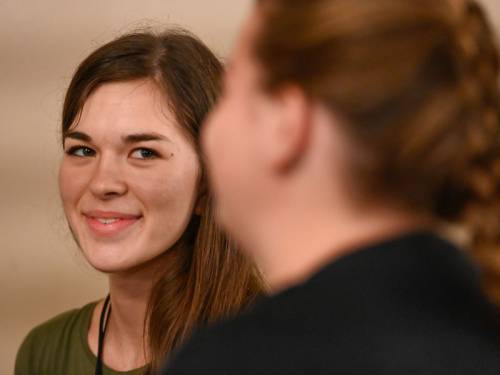 Eszter K. from Hungary listens to her Triennium small group partner Ellen P. from Missouri Union Presbtyery. (Photo by Rich Copley)
Ellen P. was part of the 2017 delegation that went to Hungary. At Triennium this week she's in a small group with Eszter K., whom she met two years ago.
"I'm realizing now the situation they are in is similar to how I felt when I was in their country," said Ellen. "I didn't know I was nervous then. But subconsciously I was, so I'm trying to be aware and welcoming."
Eszter K. says the exchange has been "really cool," adding that it's the biggest journey of her life. Far away from home, she realizes she never expected to get a chance to come to the U.S.
Bence Cs., who is paired with Charles G. in a small group, described his first worship experience at Triennium as "good."
"The energizers were wild," he said. "By the end of the week, my friendship (with Charles) will be blossoming. I hope to part of those who welcome the next American delegation to Hungary."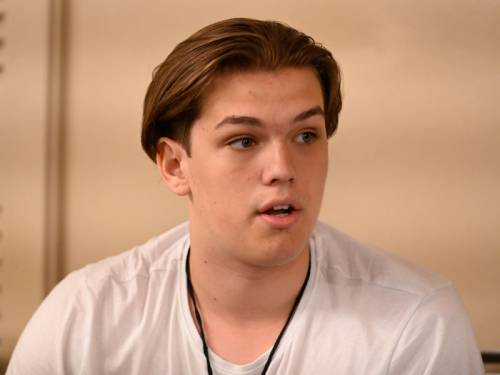 Excited to be at this year's Triennium, Hungarian youth Bence Cs. says he "always wanted to come to America." (Photo by Rich Copley)
Moore, a student ministries director at First Presbyterian Church in Mexico, Missouri has been part of a presbytery focus in recent years to bring children from their church together.
He said that those efforts are starting to pay off. More and more churches in the presbytery now have youth groups, and more students are attending retreats.
"Now we're trying to do the same internationally by bringing together Hungarian and Missouri youth," Moore said. "Why? Because they are the church now."
"Many of the kids in our Hungarian churches in small towns didn't have youth groups either," added Petró. "This partnership has helped us learn together how best to address this."
Make sure to follow PYT on social media on Facebook, Twitter and Instagram to be up to date on all of the Triennium excitement. The official event hashtag is #PYT2019.
Presbyterian Youth Triennium is a gathering for high school age youth from the Presbyterian Church (U.S.A.) and the Cumberland Presbyterian Church that occurs every three years. The 2019 event runs through July 20 at Purdue University. The theme for the 2019 event is "Here's My Heart." The Presbyterian Youth Triennium is supported by your gifts to the Pentecost Offering.